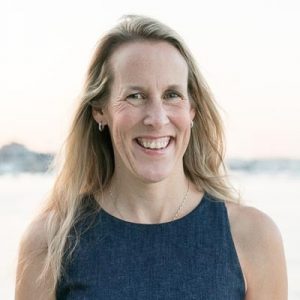 Ann Tarrant
Preferred Name: Ann Tarrant
SENIOR SCIENTIST
BIOLOGY
Email: atarrant@whoi.edu
Phone: 508 289 3398
Address:
Woods Hole Oceanographic Institution, Mail Stop 33
266 Woods Hole Road
Woods Hole, MA 02543
Lab/Group Site: https://web.whoi.edu/tarrant-lab/
Some Info Ann Tarrant completed a B.S. in Marine Science and Biology at the University of Miami (1995) and M.S. (1998) and Ph.D. (2002) degrees in Biological Oceanography at the University of Hawaii. She was awarded a full-tuition Isaac B. Singer scholarship to the University of Miami, as well as DoD NDSEG, NSF GRFP and EPA STAR fellowships. She first came to WHOI in 2002 as a postdoctoral scholar and continued as a postdoctoral fellow sponsored by a National Research Service Award (NRSA) from the National Institutes of Health (NIH). She was appointed to the Scientific Staff in the WHOI Biology Department in 2007 and is currently a Senior Scientist. Her lab uses molecular, physiological and behavior approaches to study how invertebrate animals detect and respond to signals and stressors in their environment. One recent focus has been in understanding how animals use internal circadian clocks and environmental cues to adapt to highly variable salt marsh environments. A second major effort has been in toward understanding how copepods (planktonic crustaceans) respond to seasonal changes and use dormancy as a survival strategy. She has served on the MIT-WHOI Joint Committee on Biological Oceanography and as the WHOI Academic Programs Education Coordinator for the Biology Department. She was appointed as Associate Dean in November 2021. She is also an avid distance runner.
Education
B.S. University of Miami, 1995, Biology and Marine Science
M.S. University of Hawaii, 1998, Oceanography
Ph.D. University of Hawaii, 2002, Oceanography
Research Statement
I study how animals detect and respond to signals and stressors in the marine environment.
Please see my lab website for more information.
Research Interests
Regulation of diapause, Circadian physiology, Cnidarian physiology,  Evolution of hormonal signaling, Nuclear receptors